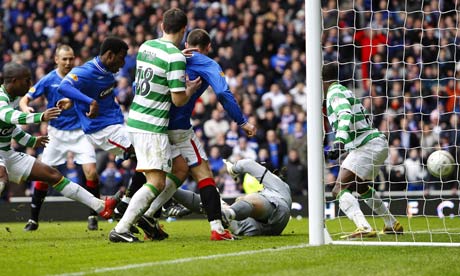 While the American soccer frets over the potential work stoppage that may destroying our nation's domestic game we're drowning our sorrows in beer. Luckily we've got a few bright spots in an otherwise dreary week for the sport in the U.S.
Enter
Maurice Edu
. The U.S. National Team midfielder recently returned to action after months on the sidelines with a knee injury, for his club, Scottish powerhouse Rangers FC, and this weekend played in one of soccer's greatest rivalries.
I'll let my esteemed journalist colleague (ha! look we're journalists now!) Mr. Grant Wahl explain why Celtic FC versus Rangers is one of the best sporting spectacles in the world.
"Celtic-Rangers, the world's most bitter club rivalry. While soccer may have other hallowed matches—Barcelona-Real Madrid, Boca Juniors-River Plate in Buenos Aires, Roma-Lazio in Rome, Flamengo-Fluminense in Rio—none come close to matching Celtic-Rangers for a purity of hatred that involves politics, class and, above all, religion. In fin de siècle European sports there is no greater symbol of sectarian strife. Stabbings and bar fights in Glasgow, a city of 688,500, are regularly investigated for Celtic-Rangers links. And this year, as has often been the case, a Scottish championship was on the line. "There's nothing like it," says the 25-year-old Reyna. "All you can tell people is that you have to come here to believe it."

Believe this, if you can: 59,918 wild-eyed fans—neighbors, even—divided into two religious camps by a human wall of police. Two hours of eardrum-shattering noise, including chants about Catholic scum from one side and Irish Republican Army songs from the other. Hundreds of Union Jacks and Irish tricolors fanning the flames of nationalist bitterness. A referee beaned by a coin, his head spouting blood.

Imagine trying to play soccer amid all this, trying to clinch a title in front of a stadium full of people, most of whom hate you from the bottom of their souls. Only then will you have an idea of why Reyna sat slack-jawed at breakfast the next morning. "Sometimes you don't experience all those things in your entire career," he said. "They happened to me in the same game"

Welcome to the holy war universally known as the Old Firm, which has pitted Celtic's Irish Catholic faithful against Rangers' Protestant supporters for 111 years. A social organization founded in 1888 to aid Glasgow's poor Catholic immigrants, Celtic and its successful soccer team have aroused the undying resentment of the Protestant establishment, symbolized by blue-clad Rangers. It's why Rangers forward Paul Gascoigne famously celebrated a goal against Celtic by mimicking a flute player to commemorate William of Orange's victory over the Catholics at the Battle of the Boyne in 1690. And it's why Celtic players take special pride in crossing themselves when they score against Rangers. "It's the last bastion of the sins of our fathers," says Ian McGarry, a soccer writer for the Scottish Daily Mail. "In the past the division represented itself in the workplace and in everyday society, but now the only place where it's still acceptable is a sporting occasion."
So one can imagine that when these teams get together it's going to be a wee bit important to both sides.
And, as a causal fan of the match up, but a huge fan of our boys "over there" the game becomes EPIC when Edu, the former Major League Soccer Rookie of the Year,
scores the game winning goal
, deep into stoppage time.
Here's the clip. A scramble in front of goal and Edu stabs it home. Just watching the unbridled celebrations by players and fans alike speaks volumes to what an important win it was for Rangers.
Just another American abroad making a name for himself in some of the best leagues in the world. These high-profile contributions not only push American soccer players into the sport's consciousness, but hopefully will begin to push into the greater general consciousness of the American public.
American soccer lacks the marketable face and personalities that other sports have. Think (before his fall from grace) Tiger Woods or LeBron James. We're not suggesting it's Maurice Edu (!), but just commenting on the fact that American soccer needs a face. Maybe we have it in Landon Donovan, but for whatever reason, people aren't buying it. But maybe it's not even the face that is the problem. Maybe it is still the sport itself in this country.
It's the classic "chicken vs. egg" conundrum for American soccer. What comes first? The profile of the sport creating marketable and recognizable players or certain individuals raising the profile of the sport. We've certainly seen one side of the equation in David Beckham (and to a lesser extent Donovan) try and fail.
Speaking of David Beckham our next beer goes to the author of a
book about the man and his ups and downs
with the Los Angeles Galaxy,
Mr. Grant Wahl
. This is old news to the soccer world, but Wahl
got a promotion from his employer, Sports Illustrated
, a few weeks ago. He is now the magazine's full-time soccer beat writer. He previously split his time between soccer and college basketball.
We've lamented the coverage of soccer in the media world before and particularly Sports Illustrated (the print edition), but SI's commitment to soccer gets a HUGE boost with this announcement. Just as ESPN has ramped up its soccer coverage it looks as though the nation's preeminent sports journalism magazine has countered as well. The rag will also launch its first-ever World Cup preview issue before the tournament (duh!) and sending writers Joe Posnanski and Peter King along and a few others with Wahl to South Africa. Some see the addition of Posnanski and King, who are not soccer writers BTW, as
an insult to the sport and soccer fans in America
.
We're torn here, but really its a step in the right direction. I think the real point to be made is right now, in this country, the major media outlets do not have quality soccer reporting talent. There are tons of great writers and commentators on the sport in this country, but none of them are employed by the places with the money to send them to South Africa this summer. Print media is dying and the old guard of sport journalism is usually disrespectful, if not downright hostile to soccer. So SI sends two seasoned writers who don't completely hate soccer to join their soccer guy for the summer.
Grant Wahl's appointment to full-time soccer writer at Sports Illustrated is beer-worthy in that it's one more step forward in the fight for the sport's relevance in the United States.
The journey may be long, slow, and often painful, but the cause is good and just.