This week's "Who We're Buying a Beer for..." is our all-female, all hottie (yes we just used that word) edition.
We know, we know... didn't
last week feature Argentine President Cristina Fernández de Kirchner
, who of course is a total MILF? Yes, but we've got even more attractive ladies in this week's episode.
These lucky ladies are definitely deserving of a beer bought courtesy of the FBM for their efforts in promoting soccer in the US of A. And frankly, given how ugly we are I think maybe more than one free beer would be in order to make us tolerable.
On to this week's list!
1. Jessica Alba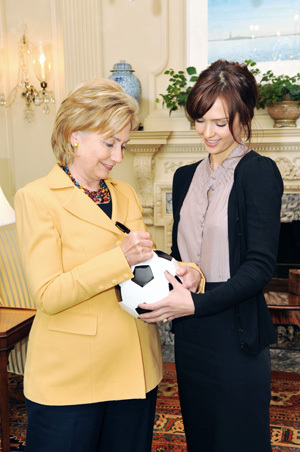 The silver screen star (like the alliteration there?) recently penned a column for The Huffington Post promoting the 1Goal: Education for All campaign

About 1Goal:

This World Cup, we're asking fans to sign up to give 75 million children a fair chance in life. Education beats Poverty – and gives people the tools to help themselves.



Global football stars, the football world and its governing body, FIFA, are behind 1GOAL. This World Cup is a moment for us to shine – let's leave a legacy of education. We don't want your money – we just want you on our team. Write Your Name for those who can't. Join1GOAL.org

1 GOAL is an ambitious and important campaign that will change the lives of children living in poverty by helping to give them an education. We're campaigning in over 200 countries from now until the FIFA World Cup final in South Africa in 2010.

1 GOAL is quite simply a global team that will voice our wishes to world leaders to keep their promise of giving everyone an education by 2015.

One recommendation is that I'd scrub Thierry Henry's picture from the homepage of the site. I doubt you're going to get any donations from Ireland for a while until you do.

2. Kate Perry



Soccer is never lacking in beauty. You've got great footwork, heart pounding strikes, superb saves, and, of course, WAGs. But add a different element to the equation: team-specific lingerie (and no I'm not talking about Austin Aztex cotton thongs).

American singer Kate Perry recently debuted an outfit for her boyfriend and West Ham United fan Russel Brand at the MTV Europe Music Awards and now you can purchase the same little thang for your special Hammers fan. According to the WHU site the team shop will be selling a 50 limited edition "outfits" for about $480.

I may go to hell for this, but you know who else is a West Ham United fan? Maybe he'll get a nice X-mas present from the missus?

3. Ben Olsen
Hey, we didn't say it would be all-female hotties, did we? Oh we did? At the top of the post? Yes, we have short memories. No, we're not deleting this and putting up scantily-clad pictures of Victoria Beckham to make up for it.
The DC United midfield retired this Tuesday from professional soccer and more than pretty much any one else (maybe Frankie), Olsen epitomized all that was great about American soccer. Over the course of 12 seasons with DC, Olsen made over 200 appearances, winning two MLS Cup titles, two MLS Supporters' Shields and one U.S. Open Cup winners medal. Not just a model player on the field, he contributed off the field as he awarded U.S. Soccer Foundation Humanitarian of the Year Award in 2003.

Olsen's presence on and off the field will be sorely missed, but his departure leave only a few of Major League Soccer's old guard left (Hejduk, the Fire's Brian McBride are the two that come to mind). And while his departure is a bitter pill to swallow for DC United and the league's fans it draws our attention back to the next generation of American soccer stars.


Not too mention modesty: "I'm not that great of a soccer player, but I've fit in. had a knack of fitting in and working hard and doing what I've needed to do."
I think that statement speaking volume for who Olsen is as a person and was a player. Someone who was the backbone of DC United's championship teams and a great image for a league that sometimes is starved for stardom, but is carried by the day-to-day efforts of a number of individuals.

For all that Olsen has contributed in bringing great American soccer to the greater nation. Thank you. Here's a raised glass (and hopefully a bought brew) to you, Ben Olsen.
Video from Olsen's retirement announcement: